Funny Stuff Blog
I had to really reach back into my meme archive for these, so I may not have enough for another round, but this is too fun ? 
Some of these are a little cheesy though haha
(I've been meaning to watch the new Anne of Green Gables movie that came out, but I've read and loved the book!)
(Aww, the next one is sad)
(found a lot of those Dawn Treader memes too)
The 'Pevensies' irl:
@highkingpete
@queensuthegentle
@kingedthejust
@queenluthevaliant
A Narnian Fan Survey!: https://forms.gle/cGghFjQyxmA4jPGq6
Posted : April 30, 2021 3:30 pm
"They turned and saw the Lion himself, so bright and real and strong that everything else began at once to look pale and shadowy compared with him."
-The Silver Chair
"Freedom that is not fought for, that is not gained by personal sacrifice is freedom that will never last, because in the heart of the one set free, it will have little value. A treasure that costs nothing is a treasure that is easily neglected and lost."
― Bryan Davis, Liberator
Posted : May 3, 2021 9:31 am
Interesting. This one may sound kind of cheesy-
Rishda and Ginger have discovered that Shift has taken all the oranges and bananas
Rishda: Lord Shift, what on earth are you doing with all those oranges and bananas?

Shift: Captain Rishda, the richest man of Calormen, and Ginger, I am making them into a smoothie.

Ginger: Oh, would you care to share some with us?

Shift: No can do. They're all for me.

Rishda: You can't have all the oranges and bananas.

Ginger: If you're going to have it all, we won't work with you anymore!

Shift: Fine by me!
"And this is the marvel of marvels, that he called me beloved."
(Emeth, The Last Battle)

Posted : October 20, 2021 6:50 pm
This is the journey
This is the trial
For the hero inside us all
I can hear adventure call
Here we go
Posted : November 7, 2021 8:07 pm
@glenwit Er, well, that's slightly better than being a fish with a bull's head, possibly...

"Now you are a lioness," said Aslan. "And now all Narnia will be renewed."
(Prince Caspian)
Posted : November 8, 2021 12:48 am
LOL that's what I said when I saw that 🤣 
This is the journey
This is the trial
For the hero inside us all
I can hear adventure call
Here we go
Posted : November 8, 2021 9:51 am
I was reading the Wikipedia page for Beauty and the Beast the other day, and the highlighted bit made me laugh because it was so random and unexpected.

(And if you've seen Avatar: The Last Airbender, you'll also know what I mean when I say it made me think of a certain merchant.

)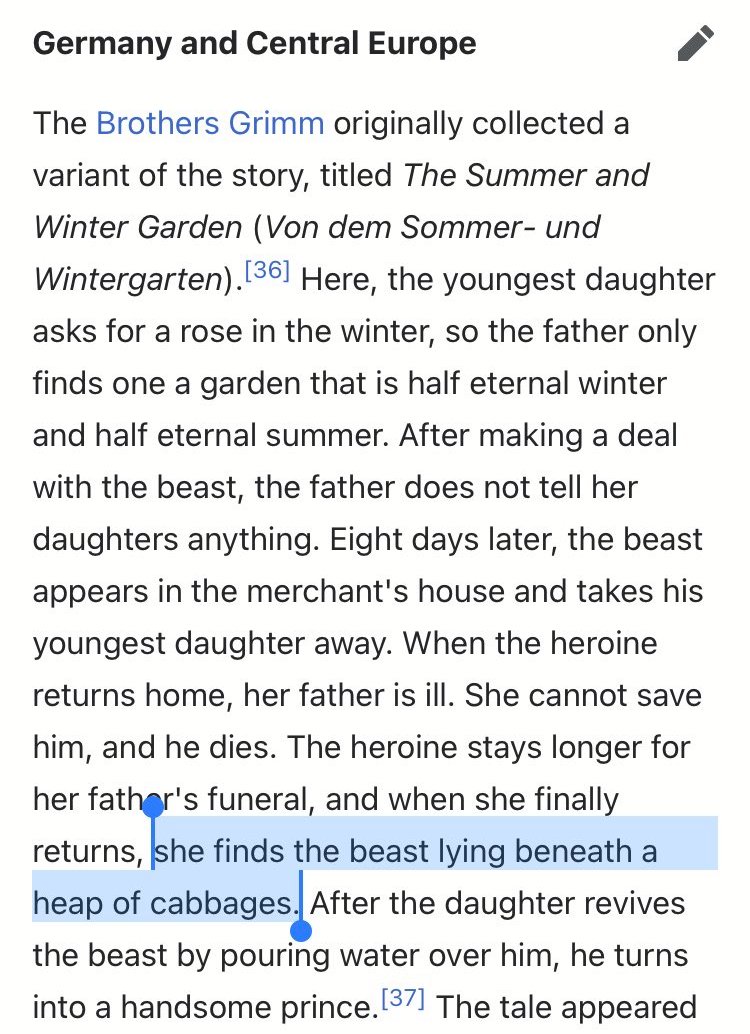 Twitter: Rose_the_Dryad
Posted : November 13, 2021 10:42 am
This is totally my family.

Posted : February 23, 2022 8:21 pm
@rose cabbages have to be useful for SOMETHING!
There, shining in the sunrise, larger than they had seen him before, shaking his mane (for it had apparently grown again) stood Aslan himself.
"...when a willing victim who had committed no treachery was killed in a traitor's stead, the Table would crack and Death itself would start working backwards."
Posted : March 1, 2022 4:43 pm