Crochet Dawn Treader
The Dawn Treader ship is hands down my single favourite thing in Narnia so I'm always on the look out for new and fun interpretations.
Case in point, someone here is offering a free Crochet pattern...
https://www.crochetkingdom.com/free-crochet-pattern-for-a-dragon-ship/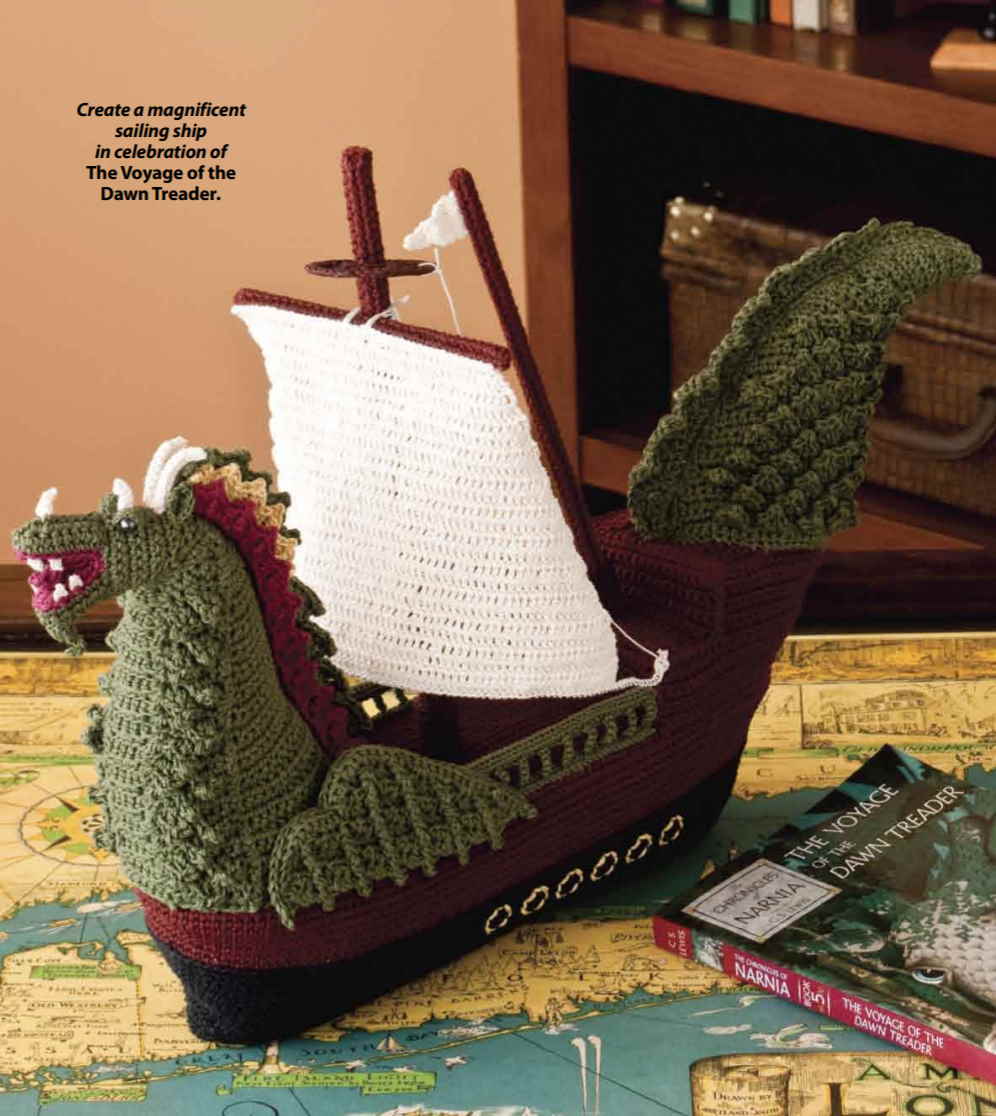 Now all I need to do is learn how to Crochet... 
Topic starter
Posted : October 30, 2021 5:53 pm
Now all I need to do is learn how to Crochet... 
Me too!!

 Oh, that's gorgeous... The sail is the wrong colour, but that would be easy to rectify when making it oneself. Which I would if I could, but I can't, so I won't. (Mum taught me to knit years ago, but she doesn't do crochet. I could still learn anyway, of course, but I just don't have the time!)
Lovely to see someone deliberately turning their considerable crochet skills to a Narnian subject, anyway!
"Now you are a lioness," said Aslan. "And now all Narnia will be renewed."
(Prince Caspian)
Posted : October 30, 2021 11:23 pm
*slowly picks jaw off the floor* Stunning. Showstopping. Incredible!

That is a lot of detailed threadwork, and even though I crochet, I don't think I'd want to tackle it.

(But, yes, one could certainly work the sun on the sail in the appropriate colors. It'd seem easy, compared to creating the dragon head from scratch.)
We have hands that fashion and heads that know,
But our hearts we lost - how long ago! -- G. K. Chesterton
Posted : October 31, 2021 7:47 am
I suppose you could get creative with not just Dawn Treader crochet, but anything Narnia related- like crochet Lucy's cordial or Peter's shield or Susan's horn.
"And this is the marvel of marvels, that he called me beloved."
(Emeth, The Last Battle)

Posted : October 31, 2021 2:35 pm
So cute. I like how detailed it is. 
Posted : May 7, 2022 5:30 am