Buffet Thread
Those are some beautiful cookies Varnafinde,
*stuffs all the cookies in my pockets (except one) for later*
"Tollers, there is too little of what we really like in stories. I am afraid we shall have to try and write some ourselves." - C.S. Lewis
Posted : November 25, 2013 1:02 pm
What a delicious spread of delectables! I'm glad there are at least a few non-sugary items to enjoy.
But what party is complete without yet more cake? So here's an ice cream cake: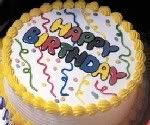 But all night, Aslan and the Moon gazed upon each other with joyful and unblinking eyes.
Posted : November 25, 2013 2:44 pm