[Closed]

Favorite Dress of Susan's
I absolutely loved the Night Raid and Battle Outfit from PC. I voted Night Raid because of the color. The purple skirt, the blue under dress, and brown leather jerkin all worked wonderfully together. I think Anna looked splendid in the ensemble.

Posted : May 18, 2010 4:40 pm
I was having trouble choosing between Susan's farewell dress (PC) and her coronation gown (LWW). I finally picked her LWW coronation gown because it looks more comfortable and I've always loved the flowing sleeves. Her farewell dress is a close second, also because of the sleeves. Then again, Susan's entire wardrobe is simply gorgeous.
Posted : May 22, 2010 8:43 am
My favourite dress of Susan's Night Raid Dress (PC).This Dress very nice when susan wearing that.
Posted : July 26, 2010 8:54 pm
The Green Archery Dress (LWW) and Farewell Dress (PC) were a close tie. But the Archery dress won for me.
Not only is it pretty but you could still do all the adventurous things that you couldn't do in the Farewell dress (I'd be afraid of ripping it!
). The Farewell dress came in close second though!
Posted : July 31, 2010 1:54 pm
That was hard to decide! I finally picked the blue coronation gown (LWW) with the Farewell Dress (PC) as a very close tie. I'd actually like to own both gowns, haha.
Awesome-as sig by Ithilwen, sweet-as avi by DamselJillPole. Thanks you two! *hugs*
Posted : November 21, 2010 3:30 pm
I voted for the green archery dress. Green is one of my favorite colors and that dress looks comfortable an practical. I'll take one in every color.

I almost picked the night raid dress. If I was going into battle I would wear that because it totally rocks with the mail and that awesome red skirt.
Round of applause for costume designers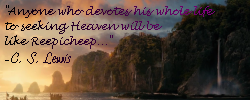 "And this marvel of all marvels, that he called me Beloved, me who am but as a dog-" -Emeth
Posted : November 24, 2010 3:19 am
Agh, this was such a hard choice, but I voted for the Farewell dress in PC. I love the fabric in particular, and the design is so unique that it definitely sticks out in my mind.
That dress is closely followed by her coronation dress in LWW. That one is beautiful, and definitely one of my favorites.
Third, her archery dress and her battle dress from PC are both awesome. I especially like what Genny said here:
Susan's battle dress is AMAZING! The dress is such a pretty deep shade of red and I love how the skirt on it is so full to make it really fun to twirl in and feminine, but also has splits in the front so a horseback rider like me can easily still ride a horse in it! The gold detaling on the skirt is very pretty too.
Overall, though, all of Susan's dresses are gorgeous, and I'd love to have any one of them.
Posted : July 26, 2012 11:03 am
I voted for her green archery dress. It was a hard choice, because I also liked her night raid dress, her LWW coronation dress, and her purple dress.
Posted : July 27, 2012 10:54 am
I voted for the green dress in LWW. It's beautiful, but it's also practical--suiting for the Gentle Queen.
Although, my main choice is one that I can't remember ever being in the actual film, or even if my mind is just playing tricks on me. I seem to remember there being a dress that Susan was going to wear in the ballroom dancing scene (LWW), although that scene was later scrapped. However, if I'm not crazy, there was a short behind-the-scenes featurette that showed Anna Popplewell spinning around in the dress Susan was supposed to wear, and I recall it being gorgeous. I can't even remember what colour it was, just that it was pretty.
I'd look it up, but alas, do not have my DVDs with me. I'm going to have to check this when I get back home.
Posted : July 27, 2012 5:31 pm
I voted for the PC coronation dress, although I was debating between that and the adult susan dress in LWW.
Narnian_Badger, the only dress I remember susan spinning around in in the LWW behind the scenes is the coronation dress. but I don't remember ALL the behind the scenes so maybe there was another one.

avatar and signature by me
my graphics: http://milanaop.deviantart.com/
Posted : August 6, 2012 7:18 am
I voted for the green archery dress. I love the cape that goes along with it, and the belt, and the stitching is very nice.


Narnia Comics: viewtopic.php?f=11&t=5560
Posted : August 25, 2012 7:27 am
I had a really hard time choosing, but at last I went with the grown Queen Susan's dress, a close second is the green archery dress

The ends must never justify the means, the means must justify themselves--Ravi Zacharias
sig by Meltintalle
Posted : September 16, 2012 4:55 am
Susan has a lot of pretty outfits, but like so many of you, I chose her green archery dress.
It's simple and practical, but still queenly and what immediately comes to mind when I think of Susan's outfits. A close second would probably be her coronation gown, and her adult outfit is also really lovely.
Some days you battle yourself and other monsters.
Some days you just make soup.
Posted : September 24, 2012 5:09 pm