The thread for people who have Green Thumbs (Gardening)
Bringing this over from the old forum, and adding an update ...
And last evening, two weeks after my post above, I planted what I think is my last plant after a few weeks of consistent gardening. Oooh, how I revel in that! 😀
In our upper veggie garden (fenced to keep critters out) we have beets (first year for those!), Romaine lettuce, brussel sprouts, cucumbers, green and yellow beans, a pepper plant. Then just outside the fenced area, we put in pumpkin and watermelon plants. I have marigolds around the pumpkin, because apparently bunnies can be attracted to them. I also sprinkle blood meal, when I remember, for extra protection.
In our lower veggie garden we have five rows of potatoes and five tomato plants, plus gladiolus bulbs on the garden's east side for fun and beauty, and zinnia seeds planted around the south and west sides. (The north side is busy with the tomato plants.)
I spy the beans and lettuce coming up (love seeing those first wee shoots!), as well as the potatoes beginning, and certainly the tomatoes are growing almost by the day.
As for floral, we dug a new flower garden near the east side of our front yard, just because there were perennials calling my name that I had not had before, and really wanted to try out. ;)) I'm getting into 'hens and chickens': I have always been drawn to them, but had never planted any before. They are just so cool! I am trying various types of sedum (stonecrop) too, as they're a favourite, as well. 🙂 I
Over the past few years, I have been trying to focus some on getting perennials ti which butterflies and bees are attracted, so that is always interesting, and very beautiful.
Last Friday night/early Saturday morning was a bit of a scare, as our area nearly frosted up. Yikes! This is very unusual after May 24 or so, but not so this year. Anyway, all was fine the following morning, and if there had been a definite frost warning, we would have covered every single one of the gardens—a rather huge job, but would have been well worth it.
Wee update for the new forum: FINALLY I am finished planting.

So many beautiful perennials, annuals, vegetables in the ground for us and others to enjoy. Our beets are now coming up, except for those seeds I planted just the other day. And the potatoes are bursting forth; as well, the tomato plants are lush and getting taller.

7,237 posts from Forum 1.0
Posted : June 8, 2020 5:42 pm
This is the first week for a month I have not purchased anything gardening-related, nor planted anything. Yay me!

Busy with maintenance now, which will continue for quite awhile yet: this mainly involves weeding and watering, which I do mostly in the early morning hours, with some watering in the cool of the evenings, as well. I have thinned out my veggies the other day, so they're freer to grow. The perennials are starting to fill in their intended spaces, although there is a ways to go yet. Everything is so pretty, particularly in this cooler weather. The peonies are beginning to bloom (they are just over a week late this year). One of my lupine plants, which was nearly fully in bloom, got smashed by a severe storm the other night. The plant is not ruined, but the beautiful blooms' lives were cut short.

My Romaine lettuce and beans are coming up nicely. The beets are taking a bit longer. <- These were all from seed. My pepper and brussel sprout plants are doing very well, as are the tomatoes and the potatoes, which are thriving, actually.
I love heading out around 6:30 most mornings to check on everything. So peaceful and beautiful.
7,237 posts from Forum 1.0
Posted : June 12, 2020 2:18 pm
My garden is mostly sleeping for the winter, but I know that if I do a bit more weeding, the soil will stay exposed and I can poke in the odd thing for early spring.
I still have green vegetables, and a few nice roses, to admire.
Posted : June 12, 2020 7:44 pm
Lovely, coracle!
We barely missed a frost last night, and the temp will be similar tonight (3C!). The majority of my plants are now well-established, so they were all fine this morning, but just a couple of hours north of us, a frost warning is out—unusual for June.
7,237 posts from Forum 1.0
Posted : June 13, 2020 7:47 am
We barely missed a frost last night, and the temp will be similar tonight (3C!). 
That's crazy. We're going to be pushing 100F today. Overnight lows are around 65-70F. 
But since this is the gardening thread and not the weather thread, I better give a garden update.

My pea plants did their thing and then I pulled them out. They had become a home to all manner of nomming worms. But the actual peas themselves are very tasty. 
I also pulled all of my radishes for the same reason. I don't know why I bothered growing them, perhaps it was because my kids had such fun planting them. I just don't care much for radishes. I ate one.

 
Of what's left, the lettuce is doing very well. Something is eating my spinach and beets. I only have two carrot plants left, but that I suspect is due to my own kids pulling them to see how the carrots are coming along. 
The tomatoes and peppers look great, and my sweet potato plants are perking up too.

As for the fairy garden area, my raspberries are producing, but I'm a bit disappointed because the fruit itself is bitter. I'm debating on pulling them out because to me it's not worth having an aggressive, thorny plant that takes over everything if the fruit isn't good. I may move them to my in-laws farm. They have soil more conducive to that kind of plant. 
Everything else looks great. My favorites the columbines are all done and looking a bit shaggy, but the rest of my plants are very happy now that the ground isn't soggy. So far I'm doing well on remembering to water. Hope I can keep that up all summer!
Posted : June 13, 2020 8:15 am
fantasia wrote: My favorites the columbines are all done
I bought columbines for the first time this year.

They are so pretty right now. I am only beginning to learn about them, and, from your comment, I see the blooms do o't stretch well into summer. Ah well: like bleeding hearts ... whose lovely flowers are also done too soon in the season.
7,237 posts from Forum 1.0
Posted : June 15, 2020 12:37 pm
I finally made a list of all the annuals, perennials, and veggies we have planted over these past five summers at our new place.  I think I have missed very few, so here we go. We have multiple of most listed below.
If we are FB friends, you can see some lovely garden photos there on my page.

Annuals
pentas - I especially love the deep rose colour
lantana
snapdragon
marigold
fuchsia
dipladenia (annuals in northern regions)
trailing plants: ivy, creeping jenny, what I call "trailing buttons" (I'm not sure of the real name )
salvia
geranium
portulaca
coleus
sunshine impatiens
dahlia
lobelia
alyssum
carnation
aster
helichrysum (I believe this is more of an annual in the northern regions)
zinnias of many colours
dusty miller
sunflower, both teddy-bear and tall
nasturtium
pansy
hanging baskets with a variety of plants
Perennials
lavendar
various types of sedum/stonecrop
hydrangea
lily
amaryllis
lupine (pink and purple)
columbine
gladiolus (various colours
dwarf papyrus
lamb's ear -> NOPE! I discovered this year that this is called Rose Campion (the leaves look very similar to the lamb's ear)
lily-of-the-valley
gerbera daisy
clematis (various colours)
peony (various colours)
blood-y cranesbill
periwinkle
bleeding heart
various hosta
yarrow
tasso red bellis
armeria (deep rose)
black-eyed Susan
roses (pink)
oak leaf hydrangea (in memory of qwertykate, a beloved member and mod here, who died in 2016)
sage (purple and a gorgeous deep rose)
hens and chickens
shasta daisy
coneflower
blanket flower
ice plant (delosperma)
groundcover/creeping phlox (blue, purple, rose)
tall phlox
Vegetables
parsley
mint
chives
beans - green and yellow
beets - 3 rows
red romaine lettuce - 1 row
pepper - 1 plant
brussel sprouts - 4 plants
potatoes - 5 rows
tomatoes - 5 plants: brandywine (2); ultra girl; super sweet 100; sakura red cherry
pumpkin - 1 plant
watermelon - 1 plant
7,237 posts from Forum 1.0
Posted : June 26, 2020 8:47 am
In the past, I would often take pictures of my garden on the Fourth of July, which means I should be taking some today. However, it has been hot and humid all week, which means I haven't been weeding, so no pictures today! 
I've really enjoyed making recipes with rhubarb this spring/summer. Last year we divided and moved the plants, so I didn't pick any all year. This year I'm making up for it by harvesting as much as I dare. We've been having rhubarb sauce, rhubarb upside down cake, rhubarb bars, rhubarb almond cake, rhubarb dump cake. . . . Yum!
"I suppose the sewing machine's too heavy to bring?. . . I can't abide the thought of that Witch fiddling with it. . ."
Posted : July 4, 2020 10:01 am
I would love to see pictures sometime, @Grandmama!

It's hot and humid here too

, and while I have had to water all the gardens periodically, plus do a bit of weeding (although there are not many since we have not had rain for awhile), I get all this done in the very early morning hours, or sometimes in the evening once the sun is lower.
Enjoy all those dishes! That is something we don't have, and want to get ... a rhubarb plant!
Our veggies are thriving, which is great to see. The potatoes have just begun to blossom, as have the beans. I saw the first tiny cucumber poke its head out of the leaves, as well as the first few tomatoes.

I pruned the peony bushes last week, as they're finished blooming. The black-eyed Susans are getting ready to burst forth in bloom, which is always fun to see. The sunflowers are growing taller - so majestic!
7,237 posts from Forum 1.0
Posted : July 4, 2020 6:19 pm
https://drive.google.com/file/d/1EvY-c1i7DoxFJB2KXldOa82MhriEH0mi/view?usp=drivesdk
Does anyone know anything about growing grapes? The house we moved into a year ago came with grape vines and I know virtually nothing about growing grapes. Now something is wrong with some of my grapes.
Edit bother my file is too big. Will get picture up soon.


Silver Chair Reading Group
NW sister to Movie Aristotle & daughter of the King
Posted : July 8, 2020 5:07 am
My husband grew up in grape country (Niagara), Twig's, but his family had cherry, peach, and pear trees on their property (and a large veggie garden), but not grapes. Hope you can rescue those to enjoy them. @coracle has had grapes, so she may know.

Because we FINALLY had rain last night (hip-hip-hooray!

), I was able to spend my early morning gardening time wedding all of the gardens. It was quite enjoyable, as the weeds have decreased a lot in the past month as the plants take over. Still, I need to keep up with those rascals when they're small, lest they, uh, grow large.

First harvest: some finger cucumbers!

Can hardly wait to try them later today!
I thought I was done garden purchasing for this year, but I have come to love the Little Miss Sunshine stonecrop/sedum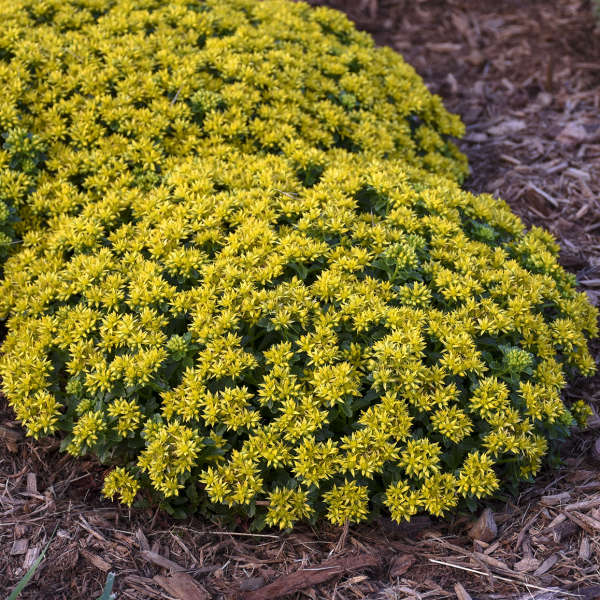 and want to place two of these in one of our back gardens to give it more colour, so, yeah, I succumbed and bought a couple more, plus two more daisies (yellow-tinged) to add to areas that looked a bit sparse.

7,237 posts from Forum 1.0
Posted : July 8, 2020 9:00 am
I spend a couple of hours weeding this morning since the weather was nice. I also picked 2 squash, 3 cucumbers and a LOT of beans and turnips! I planted the beans at 2 different times, but the second planting has almost caught up with the first. Next year I may try having a bigger gap between the plantings since I didn't want them to all get ripe at the same time!
And, if I grow turnips again, I will definitely succession plant them! The plan today is to give some away to neighbors, try some mashed, and try freezing some. If any of you know of a good recipe that uses turnips, please share! 
"I suppose the sewing machine's too heavy to bring?. . . I can't abide the thought of that Witch fiddling with it. . ."
Posted : July 20, 2020 12:06 pm
It's midwinter here, so it's rather damp in my garden, with the weeds taunting me every time I go outside!
Once we have a few dry days I can start to clear some of them.
Meanwhile I'm enjoying seeing the Early Cheer flowers starting to bloom (like jonquils), and a number of new spikes coming up from hidden bulbs.  Late in autumn I planted most of the bulbs i had been storing in my tool shed, waiting for new homes. Many of them were not labelled at all, so we shall see what we get!
I very much need to get several important jobs done, including taking out an old grapevine, removing the rickety fence that it has been sprawled along for years (one fence post holds it up!), getting my fruit trees pruned, trimming a lot of my bushes, moving a small shrub and a small bush to new locations, and pulling out one small fruit tree that has not done well.  A lot of this will need to be done for me as I'm not very strong.
But I'm looking forward to doing my own rose pruning very soon too. It's always odd to do it when there are still leaves - AND roses! - on the bushes, but it must be done for good growth in the spring and summer.
Warmish sunny days are always welcome in winter, and this one is very nice, with sun streaming across the deck on the sunward side of the house, and shining in the two sets of 'ranch-slider' glass doors into the living areas. 
Posted : July 20, 2020 6:13 pm
One of the local TV stations has an occasional gardening segment, and they commented that conditions here in central Minnesota have been ideal for gardening this year: early warm weather to thaw the ground, plenty of rain mixed with sunny days, and heat for those crops that like it (such as tomatoes and sweet corn). The backyard garden certainly bears this out!
But all night, Aslan and the Moon gazed upon each other with joyful and unblinking eyes.
Posted : July 21, 2020 12:42 pm
We tend not to be turnip fans, so I don't have any recipes, @Grandmama. Yeah, those weeds. Never-ending. It's not a job I mind, though, as long as it isn't too hot out. And I find as the plants grow large and lush, there are a lot fewer weeds that survive.
Do you freeze your beans at all, Grandmama?
Fun reading your update, coracle, as you're headed into the colder season. How are your garden projects going?
As I mentioned in the Food topic, this time of year (from now until well into Autumn) is marvelous for harvest from one's own garden, as well as local farm product (whether meat or produce). Every meal we make has at least a few homegrown or locally grown items, and some meals this comprises the entire meal. So scrumptious.
There has been an interesting plant that has grown up on its own in one of our floral gardens: it is quite feathery and lush, but it was rather taking over. Note the past tense there.

It looked somewhat familiar, but I couldn't place it, so took a cutting in to our local nursery, where I found out it was ... good ol' goldenrod.

Came home and promptly dug it all out, so now a few plants around it have more breathing room. Glad I checked!

Agreed, stargazer! The weather has been amazing for certain crops, although we are still lacking in rain somewhat. (That is coming on Sunday, apparently, yay!) The sweet corn this year is absolutely Delicious!
I am finding the red romaine lettuce I planted is a bit on the bitter side, so we have it with market lettuce, which helps diminish that somewhat acrid taste. With our main Sunday meal (family is over), we are having beets and beans from the garden; tomorrow a big green salad with some of our lettuce, plus tomatoes and cucs from our garden, mmm.
Love the harvest time, which will be around for another couple of months yet.

7,237 posts from Forum 1.0
Posted : July 31, 2020 1:19 pm