The Second Measure: Sewing, Yarnwork, and other Needlework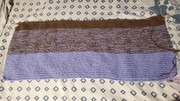 Picture of progress!

Now, here's a question for you all. Based on the current measurements, this blanket is going to turn out to be approximately 32.5" x 40". The idea of a rectangle bothers me.

If I add another section onto the end, it will be approximately 39" x 40" which is much better. However, to continue the pattern, it would end in a mixed color. So which do you all think would be more aesthetically pleasing? A rectangle with a symmetrical color pattern, or a square with an asymmetrical color pattern?

Of course my husband pointed out last night that the amount of time it takes me to knit will likely be the deciding factor. I probably won't be able to get much more than the original pattern before baby arrives.


Posted : September 12, 2020 8:10 am
It's looking great, @fantasia!

I'm glad you had enough lavender yarn (always stressful to be cutting it close!); have you been able to get more brown yarn?
Ha, good question.

Are you alternating between brown and lavender, or are you introducing more colours as you go? If you can tie the mixed-colour section back to an earlier colour (maybe the lavender) or if you're alternating just the two, I think ending in a mixed-colour section would still look fine. If you would be introducing a colour that isn't in the pattern previously, you might leave it a rectangle. At least that's my two cents.

My knitting has kind of been on hold all through the summer, and I really wanted to get back into it. I decided that the project I was last working on was holding me up a bit (too much concentration required), so I started a new project to get back into the habit of knitting (I know, I know). However, questionable decision aside, it seems to be working.

Over the years, I have acquired quite a collection of yarn bits leftover from projects I've done and then inherited from other people, most of it acrylic and not enough for much of a project. I have decided to use them all up for a small lap blanket/knee rug (knit diagonally, a bit like some washcloth patterns), with the goal being to get rid of them and with the understanding it will not be pretty. So far, so good - it's about 28" long/wide after a week-and-a-half knitting, and I plan to keep increasing until it doesn't fit on the circular needles anymore (it's getting close). I just hope to keep up the momentum until I finish.

Edit: I just found some more bits of acrylic yarn hiding in my yarn cabinet, so more colours to add!

Death is swallowed up in victory.
Posted : September 12, 2020 8:05 pm
I think I mentioned hand-sewing a shirt for my brother? Yeah, it's all cut out but no progress has been made on that...
I did, however, sit down and crochet a baby afghan last month!
close-up of the stitch pattern:
Posted : November 20, 2020 5:21 pm
Well my project isn't anywhere near as lovely as Mel's blanket, but I'm still pretty proud of it all the same.

Posted : November 20, 2020 6:49 pm
The afghan turned out lovely, @Mel! Good choice on the yarn pathway (???) - it crocheted up really nicely.

Congrats on finishing, @fantasia!

And in time too!

The colours are lovely and I do like to variegated effect when you transitioned between yarns. How large did it end up being? I know you were concerned about it being too rectangular.
Death is swallowed up in victory.
Posted : November 21, 2020 1:51 pm
Well, since last posting, I finished up the knitting project that has been hanging over me since April or so - it was a scarf/neckwarmer thing in green wool. I'm not 100% happy with it, but I think it turned out pretty well, especially as I was writing the pattern as I went.
Has anyone been working on any Christmas projects lately? I've had two so far, and I probably have more if I can make up my mind what they should be.

Edit: Oh, and since I never mentioned it here, I did finish that scrap blanket a month or two back - it ended up being roughly 36"x36". It isn't actually square, but I haven't felt like trying to block it to get it square since I'm the only one using/seeing it right now.

Death is swallowed up in victory.
Posted : December 20, 2020 5:51 pm
Here's a small cross stitch project I completed quite recently — a gift for a special friend and mentor who lives in the US. I wanted to make something that was very "her", and I know she loves bright colours and that her favourite Bible quote is Ephesians 3:17: "... being rooted and grounded in love..." (It has something to do with her surname being Root, I think.

)
I couldn't find any cross stitch patterns that had that verse in them, so I had to design one myself, which was lots of fun. It obviously had to feature a tree, so I adapted a stylised picture of one and made it fit a bookmark, with space for the quote under the branches. I couldn't find any chart-making software (not for free online, at least) that actually did what I wanted it to, so I quickly resorted to the good old-fashioned method of graph paper and pencil and tracing, which took a bit of effort, but it worked out fine.
Then once I was happy with it, I looked up free cross stitch alphabet patterns online (what did we do before the internet?!) and found the perfect lettering for the quote and graphed it in. Then of course came stitching it and then finishing it into a bookmark (it has red felt backing, which you can just see in the photos). It was an absolute joy to make!
I posted it early enough to get to the US West Coast in time for Christmas, and my friend emailed me yesterday to say it's perfect and she loves it!

"Now you are a lioness," said Aslan. "And now all Narnia will be renewed."
(Prince Caspian)
Posted : December 27, 2020 9:59 am
@Courtenay, that really is a lovely bookmark. And it's so cool how your were able to adapt the pattern to make it fit, as well as design the verse. When it comes to cross-stitching I'm no good at coming up with my own designs yet.
I've learned the waffle stitch for crocheting just recently and decided to make a dish towel/pot holder set with it. It's coming along super slowly though, due to most of my time be occupied with the baby and when I am free usually all I want to do is sleep

. I have finished the dish towel and last and have started on the first pot holder. I'm hoping to have it all done by the new year 🙂 

The ends must never justify the means, the means must justify themselves--Ravi Zacharias
sig by Meltintalle
Posted : December 28, 2020 1:19 am
Today I put down a big ol' chunk of change (birthday money) towards a new project. It's basically a full sized blanket, though a slightly different pattern from the baby blanket I made. And this one I'm making for myself.

I shall keep you all posted on how it goes. 
But I really wanted something to occasionally work on in the evening when I'm tired and just want to sit, but doesn't involve a video game.
Posted : January 6, 2021 3:53 pm
My yarn arrived yesterday. I didn't say this above, but the blanket is supposed to be about 50" x 60". 
https://www.knitpicks.com/knit-beginner-blanket/g/55732220
Last night I did get casting on done. I think that will be my most hated part of knitting. It was supposed to be 210 stitches to reach 50". I know it stretches a bit, but at 150 stitches, I wasn't even at 25". So I pulled it all off, and just doubled the length of what I had. I ended up at 47.5" and I'm happy with that. No idea how many stitches that is. I'll just go until I run out of yarn. 😛 
Oh, and I did go with the colors in the picture above, but I liked the purple next to the blue instead, so I started with pink. 🙂 
Posted : January 13, 2021 9:21 am
@fantasia Re the casting on / measurements:
In my experience of knitting (mostly clothing, not blankets), I have found that the length of the casting on is not a good guide to the finished measurement of the item.
All the best with that huge number of stitches! What sort of needles are they?
Posted : January 13, 2021 3:01 pm
How had I never found this thread before? I work at a fabric store and have been doing needlecrafts of one sort or another since at least the LWW came out. My current project is a 19th century style corset.


made by katherine
Posted : January 14, 2021 1:21 pm